Uplift Is Doing School Right in 2020
With 43 schools on 21 campuses across the metroplex, we still have spots available at many of our campuses. THE SCHOOLS AND GRADES BELOW ARE OFFERING IMMEDIATE ADMISSION, SO APPLY TODAY!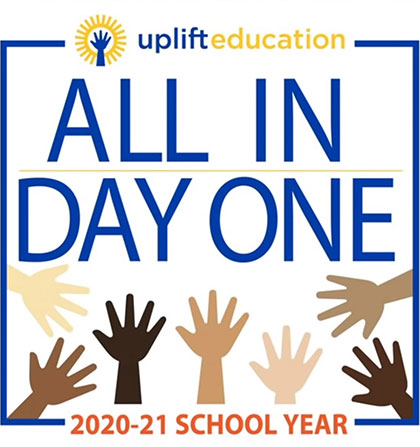 FREE | PK-12th |
100% COLLEGE
ACCEPTANCE
As other districts in the area are struggling to develop effective distance learning procedures, safe reopening plans, and concrete start dates, the 20,000+ scholars at Uplift Education have been learning since August 10th! We knew that for our scholars to stay on track with their learning, we simply could not afford to delay the start of school.
Were there hiccups in that first week? Absolutely! But it did not take long for us to hit our stride with the "new normal", and now our scholars are enjoying full school days balanced with academics, physical activity, well-being check-ins, and critical breaks away from the screen.
It's not too late to apply to one of our schools. Our caring teachers and leaders are ready to bring your child into the fold and help him or her reach full potential.